ICEBAR by ICEHOTEL
Dirección: Kristian IVs gate 12, 0164 Oslo
Mostrar mapa
Dirección: Kristian IVs gate 12, 0164 Oslo

ICEBAR OSLO by ICEHOTEL is the third ICEBAR by ICEHOTEL in the world and the first in Norway.

Here you can purchase your entrance ticket to ICEBAR OSLO. The ticket includes one free drink at ICEBAR OSLO.
The ICEBAR offers a unique bar experience in one of Oslo's most exotic venues.

The bar is made up of a warm and a cold section, and the menu includes the best of Norwegian and Nordic ingredients.


Opening hours:
Mon - Thur 12:00- 23:00
Friday 12:00 - 24:00
Saturday 12:00 - 24:00
Sunday 12.00-18.00


NB: ICEBAR can change their opening hours on short notice due to private events.
Show more
Alojamiento en los alrededores
Hotel
Distancia: 154 metros
Tu casa lejos de casa En una esquina tranquila del centro de la ciudad se encuentra el Hotel Bristol, conocido por su diseño interior inspirado en la Inglaterra eduardiana.
Hotel
Distancia: 233 metros
Situado entre el Parlamento y el Palacio Real a la mitad de la calle principal de Oslo, Karl Johan encontrarás este hotel encantador.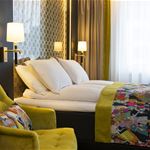 Hotel
Distancia: 212 metros
Hotel de diseño a un corto paseo de Karl Johan, del transporte público, los comercios y de las principales atracciones de Oslo.